Lucie Horsch wins first Bunschoten Younger Talent Award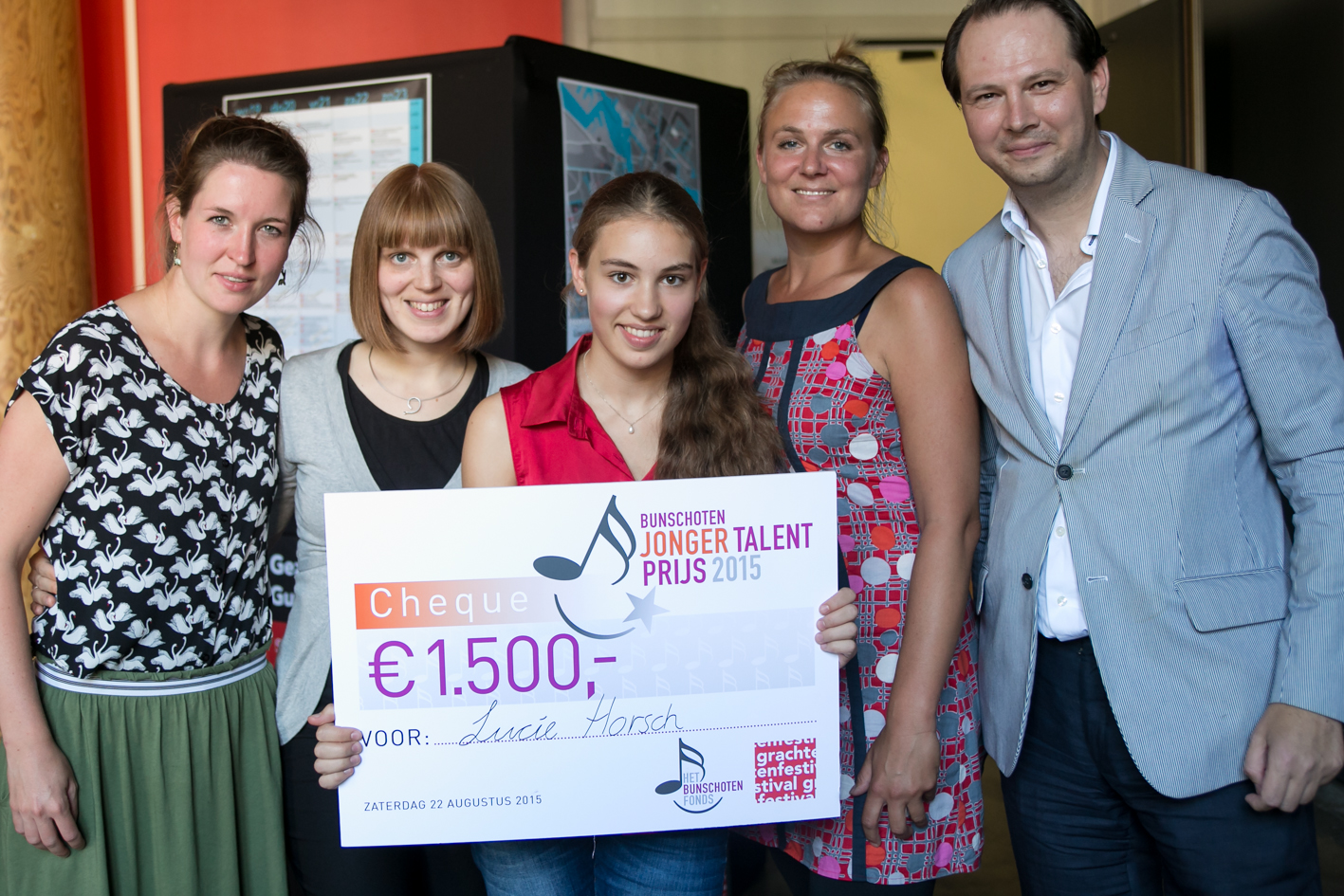 Since the summer of 2015 the Bunschoten Younger Talent Award (Bunschoten Jonger Talent Prijs) has been presented annually to the most eye-catching young musician during the Grachtenfestival (Amsterdam Canals Festival) Amsterdam. With this new initiative The Bunschoten Fund broadens its activities beyond its regular support of musical groups.

This new initiative is a broadening of the Bunschoten Fund activities, which turn the wish of founder Willem Bunschoten into a reality: encouraging young musicians, and with it the future of classical music. The Bunschoten Younger Talent Award is the latest addition next to the regular support of musical groups by the Fund.

A unique feature of the Bunschoten Younger Talent Award is the fact that the candidates themselves remain unaware of the shortlist that carries their name. This way unnecessary pressure on the young musicians can be avoided. For the first award, in August 2015, the nominees were Jorian van Nee, Yang Yang Cai, Lucie Horsch and Leon Blekh. Jorian van Nee, piano, was taught by Henk Ekkel at the Academie Muzikaal Talent (Academy Musical Talent) and followed masterclasses with David Kuyken, Ronald Brautigam and Jan Wijn. Yang Yang Cai took her first piano lessons with Noor Relijk and ila Baslawskaja, and with piano teacher Jan Wijn since 2009. She also followed masterclasses with Jean-Claude van den Eynden, Matti Raekalliio, Ruth Nye and Boris Berman. Leon Blekh was part of the talent class of the Prins Claus Conservatorium (Prince Claus Conservatory) in Groningen. He now lives in Antwerp and is taught by Mark Blek (Juliard School of Music New York). Blekh has played in many cities, including Antwerp, Den Bosch, The Hague, Brussels, Delft and Amsterdam.

Winner Lucie Horsch started with flute lessons at age five, from Rob Beek at the music school Amsterdam. Since 2011 she has studied with Walter van Hauwe at the Sweelinck Academie of the Amsterdam Conservatory. She also studies piano, as a major, with Marjes Benoist. Luci has won several first prizes at, the Prinses Christina (Junior) Concours (Princess Christina (Junior) Competition) and the Nationaal Concours (National Competition) of the Stichting Jong Muziek Talent Nederland (The Young Dutch Music Talent foundation). Lucie is a much-sought soloist in the Netherlands and internationally, and gave recitals during the Kamermuziekfestival (Chamber Music Festival) Schiermonnikoog, the Festwochen für Alte Musik in Innsbruck, the Norsjo Kammermusikkfest in Norway and the Internationaal Kamermuziekfestival (International Chamber Music Festival) Utrecht of Janine Jansen.